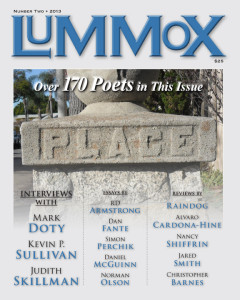 LUMMOX#2 cover
LUMMOX ANTHOLOGY #2
The second annual LUMMOX Anthology is due out on November 15, 2013. This is the PLACE issue…poems about PLACE, whether it be geographic or nostalgic or emotional, PLACE is a powerful motivator, as the nearly 180 poets demonstrate.
Also in this issue are interviews with Kevin P. Sullivan (co-founder of the San Luis Obispo Poetry Festival, marking it's 30th year in 2013); Mark Doty (former U.S. Poet Laureate); Judith Skillman (author of Broken Lines – The Art & Craft of Poetry) and Anne MacNaughton & Peter Rabbit (founders of the Taos Poetry Circus).
Rounding out this 222 page issue are essays on the craft of writing by Dan Fante, Daniel McGinn, Laura Muñoz-Larbig, Joe Chandler, Simon Perchik; while Norman Olson muses about art & Phil Woods muses about the late poet Lew Welch. And a number of reviews by Christopher Barnes, Michael Basinski, Nancy Shiffrin, Jared Smith, Alvaro Cardova – Hine, Norman Olson & RD Armstrong.
This book retails for $25 (US) and $35 (WORLD) but right now you can order a copy for $20 (US) & $30 (WORLD) – POSTAGE INCLUDED!
If you wish to pay by check or money-order, please make it out to Lummox Press and send to Lummox c/o PO Box 5301 San Pedro, CA 90733 USA. This offer is only good until the anthology is published in mid-November.
Show your friends that you support the LUMMOX by wearing your LUMMOX Tee Shirt or drinking from your LUMMOX coffee cup!
222 pages; 8 X 10 Trade Paper (soft cover)
ISBN 978-1-929878-47-5
Retail $25
This sale is good until Nov. 15, 2013, so get a copy now and SAVE!